Fall 2021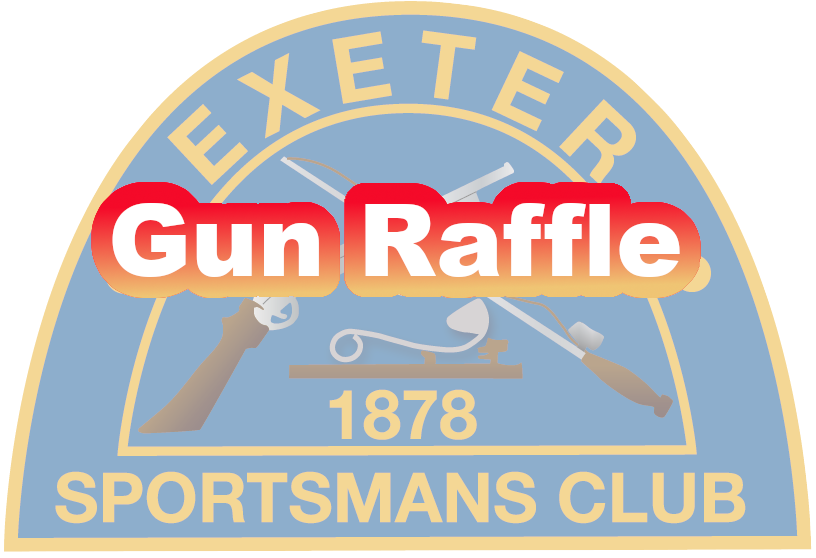 ---
We've added a 5th gun and 600 rounds of hard-to-get 9mm ammo. These prizes will be raffled off at $20 per ticket with a total of 300 tickets sold. This is the 5th year that the Exeter Sportsman's Club has offered this opportunity to its members and the public. For the membership, this is a win-win. You have a good chance to win a great gun or a stash of range ammo, but you also benefit because this allows your club to continue to improve its offerings to you.
---
S&W 15-22 Sport .22lr
The M&P15-22 SPORT features a 10-inch M&P slim handguard that incorporates the popular Magpul M-LOK™ system. The M-LOK system allows rifle owners to easily customize their M&P15-22 SPORT by adding accessories without removing the handguard. M&P15-22 SPORT owners have the option of easily mounting numerous M-LOK-compatible accessories or any number of Picatinny-style rail sections designed to accommodate other accessories. Smith & Wesson includes a 2-inch M-LOK rail panel with each rifle.The M&P15-22 SPORT comes standard with one of the most popular folding sights systems available for MSRs. The removable Magpul MBUS® front and rear folding sights are lightweight and durable, further enhancing the performance and value of the new M&P15-22 SPORT.
• 10" M&P® Slim Handguard with MAGPUL® M-LOK™
• MAGPUL® MBUS® Folding Sights
• Easy to Mount M-LOK™ Accessories
• 2" M-LOK™ Rail Panel Included
• 6-Position CAR Stock
• Functioning Charging Handle
• Shell Deflector
• 2-Position, Receiver Mounted Safety Lever
Ruger PC Carbine 9mm
The Ruger® PC Carbine™ is a well-balanced, fast-handling weapon that delivers rapid fire with readily available 9x19mm ammunition. The carbine is adaptable, with interchangeable magazine wells, for use with either GLOCK® pistol magazines, or Ruger SR9, Security-9, and Ruger American pistol magazines. The receiver is CNC-milled from a 7075-T6 aluminum billet and Type III hard-coat anodized for maximum durability; and, the receiver comes with an integrated Picatinny rail. The durable, glass-filled nylon synthetic stock has a forward mounted accessory rail, proprietary texturing on the grip surfaces, and a rubber buttpad with spacers to adjust length of pull (includes three 1/2″ spacers). The PC Carbine takes down quickly for storage or transport, by pushing a recessed lever and twisting the barreled fore-end from the receiver and pulling them apart. The heavy-contour barrel features fluting for faster heat dispersion, and a threaded muzzle (1/2″–28) for attaching aftermarket suppressors (includes thread protector). The rear aperture sight adjusts for windage and elevation, and the front post is protected by wings on both sides. The dead blow action features a multi-piece bolt assembly that reduces felt recoil and muzzle rise for enhanced fire control. Operation of the Ruger PC Carbine Semi-Auto Rifle is similar to the Ruger 10/22®, having the charging handle and cross-bolt safety in the same location, and the bolt stop and take-down latch working similar as well. The light, crisp trigger also uses 10/22 trigger components. Ships with one SR-Series pistol magazine and hex wrenches.
Well-balanced and fast-handling
Interchangeable magazine wells
Uses either GLOCK or Ruger magazines
Aluminum, CNC-milled receiver
Glass-filled nylon synthetic stock
Forward mounted accessory rail
Integrated Picatinny rail
Fluted, threaded barrel
Takes down quickly
Rear aperture sight
Protected front sight post
Taylor's & Co. 1873 Ranch Hand .357 Magnum
Taylor's & Company offers the finest collection of Cattleman Model 1873's in the market today. Their single action models are manufactured using the highest quality standards available. Their frames are forged, which gives you a revolver that will withstand the demands of competition and Cowboy Action Shooting. Forged frames feature a better grain structure and are expected to be stronger, offering you a revolver that will stand the test of time. Taylor's Cattleman Ranch Hand has a blued finish with a case-hardened frame and a brass backstrap and trigger guard.
Ruger Security 9 9mm
The Ruger® Security-9® Semi-Auto Pistol operates with the same Secure Action used in the LCP II®, delivering a smooth trigger pull with an internal hammer and superior reliability in a small, easy-to-conceal package. An added benefit of the Secure Action system is that it's easier to rack the slide, compared to a similar size striker-fired pistol. The pistol's frame is constructed with glass-filled nylon, and a precision-machined, hard-coated aluminum chassis that contacts the slide with full-length guide rails. The slide is made of through-hardened alloy steel, and features front and rear serrations for improved slide manipulation and control. Dovetailed 3-dot sights offer intuitive target acquisition, while a trigger safety and a manual thumb safety ensure safe, reliable handling. Ships with 2 magazines.
Secure Action trigger system
Internal hammer
Glass-filled nylon frame
Internal aluminum chassis
Beveled, blued steel slide
Front and rear slide serrations
Dovetailed front and rear sights
Manual thumb safety
Trigger safety
CZ P-01 9mm
The CZ P-01 is a compact, aluminum-framed 9mm designed for LE and Military duty, but its compact size and the reduced weight due to its forged alloy frame make it ideal for discrete carry as well. Equipped with a decocker, the P-01 provides convenience for those who prefer hammer-down carry. With a heavy first-round trigger pull, any additional shots are a light, crisp single action.
The P-01 was the first CZ model to benefit from updated manufacturing technology at CZ's Uhersky Brod factory. Since the time of its introduction (designed in 2001, NATO-approved in 2003) the production upgrades have been rolled out to the rest of the CZ 75 family and several new rifle models as well.
These upgrades mean the components of the P-01/P-06 are completely interchangeable with every other P-01/P-06, with no individual fitting needed. This required some very careful re-design so that the reliability and accuracy were not impaired.
With an integral 1913 accessory rail on its dust cover, the P-01 easily accepts any of the industry-standard lights and lasers to assist with low-light use.
After 3 years of some of the most aggressive small arms testing ever, the CZ P-01 won the honor of replacing the CZ 75s previously used by the Czech National Police.
Winchester White Box 9mm ammo (600 rounds)
This will be 3 boxes of the 200 round range pack.
---
Rules
This raffle is open to ESC members and non-members (winners must be able to own a gun legally)
Tickets are $20 each. There are 300 tickets available
There will be six winners. Winner #1 will get choice of 6 prizes. Winner #2 will get choice of remaining 5 prizes, etc.
The drawing will take place during a membership meeting when all tickets are sold
When all tickets have been sold but before the drawing, each ticket holder will receive the list of ticket holders and the ticket number(s) for the tickets purchased.
---